STUDENT BULLETIN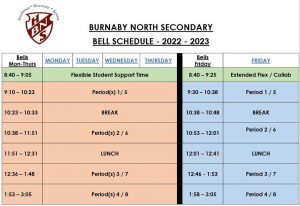 Monday, September 26, 2022
**Just a friendly reminder the first 5-minutes of Period 1 are set aside to read the headlines of the bulletin**
We build a stronger community when students are aware of all the activities and events taking place at North. Your cooperation is greatly appreciated.
GENERAL
Daily Health Check: Have you done your daily health check?
TERRY FOX RUN TOMORROW: Tuesday, September 27th during block 6 is officially our Annual Terry Fox Run! There is NO FLEX TIME on Tuesday.  School starts at 8:40 in your Period 5 Class. Your block 6 teacher will have an envelope to collect any donations; the goal of the annual run is to raise funds to find a cure for cancer!  If anyone is interested to join the Terry Fox run, your Block 6 teacher, your PHE leadership student as well as the office will have race cards! We look forward to seeing you all! The PHE leadership team.
Terry Fox Run Bell Schedule

Tuesday Sep. 27 – Day 2 NO FLEX TODAY

8:40-9:45
BLOCK 5
9:45-9:55
BREAK
10:00-12:01
BLOCK 6 – RUN
12:01-12:41
LUNCH
12:46-1:53
BLOCK 7
1:58-3:05
BLOCK 8
Terry Fox Photos for Yearbook: The Yearbook team is accepting submissions of photos from our Terry Fox Run.  Please only submit high resolution photos that highlight the importance of this event.  Submissions are to be delivered to bnsyearbook2023@gmail.com.  Make sure to include your first and last name, grade and student number when submitting photos.
DRAMA: Can the following students see Ms Agnew in the Drama room before the end of the day
Amanda Dong, Zee Hee, Raha Pakdel, Jenny Lee, Willow MacDougal, Eliana Medina, Andjela Miljkovic, Brendan Wang.
Course Drop Deadline: Please note that this Wednesday, September 28th will be the final day to withdraw from a course for the 2022-2023 school year. Please schedule an appointment with your counsellor before Wednesday if you would like to consider withdrawing from a course. Please do not request any further course additions, as the deadline to add courses to your schedule has passed.
Math Contests:  We have a few math contests coming up for junior and senior students!  The COMC (Canadian Open Math Challenge) is mainly for senior students, the AMC (American Math Challenge) 10/12 is open to all students, and the CIMC/CSMC (Canadian Intermediate/Senior Math Challenge) is open to all students.  If you'd like to sign up for any (or all!) of these contests, please complete the following form by the end of the week.   See Ms. Drake in room 105 if you have any questions or would like more information.   https://forms.office.com/r/kYkTwXgXg9
Service Hour Forms: Are you serving our Burnaby North school community? We want to know! It may lead to a service award at the end of the year but more so, you're doing something good for the school. Service Hour forms are now available in tray on Student Services counter and must be by teacher sponsor to be counted. First due date: Friday, November 4. More info: https://blogs.sd41.bc.ca/north-scholarships/?page_id=26
ACCESS COFFEE CARDS:  Hello BNS community! You are able to purchase your ACCESS coffee card on school cash online.  The Access coffee program will be in the North building, on the second floor at the end of the hall by the CONNECT room during nutrition break.  See you there!
MATH BUDDIES PROGRAM:  Calling all grade 9-12 students. If you are interested in tutoring elementary school students in Math while earning Service hours or Work Experience hours, please fill out the application form with this link: https://forms.office.com/r/iEeRY92rET   by Oct. 2nd.  More information about the program is on the application form.
DRAMA: Students who are going to attend the New York trip need to sign up officially with Ms Agnew. There will be a mandatory parent meeting late next week, via Zoom and I need to know who needs the invite. See Ms Agnew for any further information.
CLUBS
CLUB'S DAY INFORMATION: Hello North Students! The Student Government is very excited to prepare for this year's Club's Day at Burnaby North! Club's day will be held on October 5th, and we will update you on our Instagram @burnabynorthvikings regarding the location. FOR ALL STUDENTS WHO IS A EXECUTIVE OF A CLUB, please see below the NEW UPDATES FOR SECURING A CLUB:
-September 26th: Today is the LAST DAY to submit a physical copy of the student club proposal form, which can be found on Burnaby North's website under the Student tab named "Clubs", and hand it into the office OR room 211. Please submit this physical copy AND the online google form. You must submit BOTH in order for your club to be registered. The link to the google form is https://forms.gle/bCg6yGFZupJH13E37
-September 26th – 27th: We will also send email to those who submitted both the google form AND the physical copy regarding club's day. Please check the email that you provided in the GOOGLE FORM.
-September 26th – September 30th: Banner making will take place in room 211 in the afternoon. SIGN UP SHEETS AVAILABLE RIGHT NOW IN MR. SOKUGAWA'S ROOM.
Last but not least, please make sure to follow our Instagram @burnabynorthvikings to receive the newest updates. Thank you!
VOLUNTEERS/WORK EXPERIENCE
Interested in teaching, ECE or childcare? Burnaby Neighbourhood House has an 18 week program that is right for you. See Mr. Carey.
GRADS
Burnaby North Scholarship Blog– Attention grads:  All scholarships are on the scholarship blog can be found on https://blogs.sd41.bc.ca/north-scholarships/. It can also be accessed by going to the school site, clicking the "Students" drop-down menu, then clicking on "Scholarships". Check out the latest info including last Thursday's Scholarship Info Session recording.
Loran Scholarship – this is highly prestigious scholarship focuses on character, service, and leadership offers scholarships of up to $100,000! All successful applicants must be well-rounded students who present a minimum 85% cumulative average and demonstrate character, promise of leadership and strong commitment to service in the community. ALL scholarships are now submitted directly to Loran. Additional info and how to apply can be found: https://blogs.sd41.bc.ca/north-scholarships/?p=69. Due: October 12, 2021.
University of Toronto Book National Scholar Award – recipients are students who excel in academic pursuits, demonstrate enthusiasm for intellectual exploration and have a strong involvement in the lives of their schools and communities. Details on blog: https://blogs.sd41.bc.ca/north-scholarships/?p=77 . If you would like to be considered, submit a resume and cover letter to Ms. Mihic in Student Services by Friday, October 7th. 
Grad Photos: Book online Oct. 8 to 13 at: https://artona.com/schools/BBYN/programs/graduation